Band Biography
The Hellfire Club is a guitar driven, in your face Hard Rock/Metal band from Ohio's own Rubber City of Akron. These mismatched musicians live to entertain crowds. Yet they steadily evolve without compromise and remain true to their supporters. T.H.C . does this by playing a mixture of their own originals as well as hits of today and favorites of the past. Add to that a stage performance that die hard Live Show Fans as well as the aggressive heavy rock World deserves.
The Hellfire Club has played a variety of stages across the Tri-State Music Scene since 2014. In this time they've become known for the dual guitar work of Damon Conn and Dave Moore that is brutally crunchy yet dynamically colorful. The machine like precision and charging rhythms of Jeff Graham on bass and Chuck Dobbins on drums. Accompanying them all is John "American Hilljack" Lane's emotional laced powerful vocals. Together they forge an electrifying experience of Music and Entertainment that's worth every penny.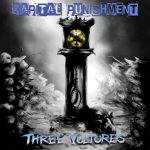 Band Biography
Three Vultures is the brain child of Dustin Cutright. For as long as he can remember, he has wanted to be a musician, one that changed the way people felt and listened to music, and one that also opened the minds of his listeners. With a few years and a few bands under his belt, Three Vultures is his most experimental project. With the passion and talent of John Lane on the drums and the groove-filled, dark bass riffs of Auston Dunnington, 3V is an experienced trio of musicians putting hard work, dedication, and love of all genres into their music. Taking influences from grunge, alternative, progressive, psychedelic, and stoner/desert rock for their music and life experiences for their lyrics, Three Vultures is a well rounded rock band.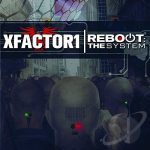 Band Biography
XF1 literally exploded onto the Ohio music scene in 2006. Through relentless drive and determination XF1 have succeeded in being a top mid-west region band that has toured nationally with Mushroomhead, Flaw, Bobaflex, Smile Empty Soul, Hurt, Motograter, Taproot, Psychostick & many others. XF1 has also been invited and has performed at such large scale festivals as Mayhem, Carnival Of Chaos, Rock On The Range & more.
INTENSITY. PASSION. DESIRE. These are words that best describe what XF1 is all about. XF1's message is SELF:EMPOWERMENT. YOU have the power to change your LIFE. Their live shows are legendary for no holds barred madness with a war cry of "same show, 5 or 5,000"!
XF1 has sold over 65,000 records to date of the following CD's and have been featured on hundreds of thousands of various compilation cds by their sponsor Jagermeister, Metal Edge Magazine, the US military and various national and regional releases. XF1 has also had their top single to date: BRING IT ON featured on Thursday Night Football, ESPN, Speed TV, College Game Day and others. They are currently with Megaforce/MRi Records.